3 Do's (and Don'ts) Of Skiing in Style
by
Taylor Mason
on Oct. 17, 2022, 9:30 a.m.
Whether you're an avid skier or it's your first time sliding down the slopes, you need to have the right gear. Sure, style matters but there's more to skiing than just good looks. You also have to make sure you don't freeze!
Stay fashionable and functional so you can make the most of ski season. These do's and don'ts will help you do just that.
Do: Wear Clothing Made of Wool or Synthetic Fibers
When it comes to your ski outfit, the most important thing to look at is the fabric. Make sure it's made of wool or synthetic fibers like Capilene® the specific fiber Patagonia uses for base layers. You can find those here. These fabrics wick moisture away from your body which helps keep you warm and dry – definitely what you want when you're on the side of a snowy mountain.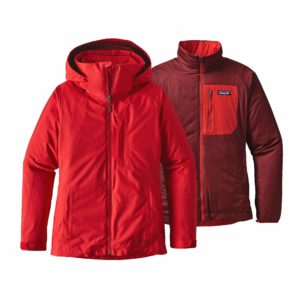 Don't: Wear Anything Cotton
The one thing you shouldn't wear? Cotton. Every bit of moisture from sweat, snow, and water, it'll absorb like a sponge. And once cotton gets wet, it loses all its ability to keep you warm. That's not just uncomfortable, it can be dangerous when you're out in the cold.
Do: Wear Waterproof & Insulated Outer Layers
Whether you're a beginner or a seasoned skier, you're going to get covered in snow. If you don't want itto seep under your clothes, you're going to need a water-resistant outer layer. Oh, and make sure it's breathable since you don't want to be soaking in your own sweat either.
Look for jackets with zippers under the arms and pants with zippers on the legs to help with ventilation. Anything made of Gore-Tex fabric is often recommended but there are also options from other manufacturers. All of our KITs are extremely water-resistant and breathable.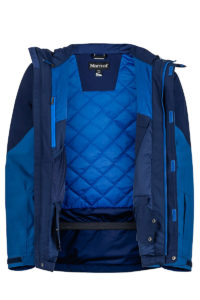 Don't: Wear Jeans
If you don't see how important it is to keep moisture out, think about it like this: You won't always be on your feet. You might lose your balance or you might just need to take a breather but you will eventually find yourself sitting on the snow. When you get back up, do you want to be a cold, soggy mess? Probably not.
Do: Wear Safety Gear
As with any recreational sport,there's always a bit of risk involved. That's why you should always wear proper safety gear like a helmet, goggles, and gloves whenever you hit the slopes.
You may get tired of hearing it, but it bears repeating: you need to keep the cold at bay. Save your hands from frostbite and get a pair of ski gloves.
Snow may feel soft when you're standing still but not when you're hitting it at speed. A hat or beanie won't protect your head from an injury but a helmet certainly can. So don't forget to rent one when you're picking up your skis, snowboards and boots!
Speaking of snow, you'll be surrounded by the stuff. It reflects sunlight, including UV rays. Goggles are essential so you can see in front of you and keep your eyes safe.

Don't: Wear Loose or Tight-Fitting Gear.
It's not enough just to wear the safety gear. Each piece has to fit correctly as well. A loose helmet can cause more harm than good during an accident. Goggles that are too big can move around and block your eyes while you're skiing. And gloves that are loose won't keep your hands warm.
It may seem inconvenient but taking the time to find gear and clothing that fitjust right is worth it. Wearing clothing that is too big or too small will hinder your ability to stay warm and have fun on the mountain.
If you're starting to get put off by all the gear and equipment you need, Kit Lender has you covered. You can choose a set of rental gear from the latest styles of the season and we'll ship it directly to your destination. Once you're done, all you have to do is drop it off in the mail using our pre-addressed packaging.
Skip the rental line and avoid the hassle. Get kitted out today!