Why You Should Never Buy Ski Gear Again
by
Accounts Kitlender
on Feb. 13, 2020, 4:43 p.m.
Flying with ski gear is a pain, and even the best equipment depreciates quicker than fast-fashion. Here, why you should rent—never buy—nearly all your slope needs from now on
UNTIL RECENTLY my ski vacations have begun with frustration. I've muscled a mountain of equipment into several duffels for the plane and torched my Amex with baggage fees only to stuff everything into the always-smaller-than-advertised rental car when I land. The only real alternative was renting scuffed-up gear at the resort.
No more. Now online outfitters similar to services like Rent the Runway and made-to-measure brands like Indochino will fit you for top-flight gear and deliver it to your hotel room or to an in-town pick-up spot at almost any U.S. mountain you wish to zhush down.
For these brands, "the big change is better customer service," said Amy Yearwood Crider, vice president at Alpine Adventures, a ski-trip consultancy company that steers travel agents toward the best packages. People expect to be taken care of and they expect everything to look and fit nicely, and work as advertised. In the past five years Alpine Adventures has seen a 44% increase in customers renting gear.
New services bring skis, poles, helmets, goggles, boots and more directly to your hotel or condo for in-room fittings.
Ms. Yearwood Crider is a fan of Ski Butlers, a luxury outfitter that launched in 2004, pioneering a direct-to-consumer model for outdoor gear. Ski Butlers will hold your hand through the process, sending a pro out to size you up for skis and properly adjust your bindings, then deliver them—directly to your hotel or ski-town condo—along with poles, helmets, goggles and boots. Some experts recommend you bring your own boots (see "Not Snow Fast," below).
Ski Butlers services 50 resorts in 21 ski areas across the globe, largely centered on western U.S. including Colorado, California and Idaho. Prices vary between resorts and, like Uber rates during a rainstorm, can rise steeply during high-demand periods like long weekends or if you book less than 72 hours ahead.
For example: Skiers heading to Jackson Hole, Wyo., who book about a week in advance should expect to pay around $35 a day for kids and $75 a day for adults this time of year. You'll pay more for higher-end ski gear: A full set of Rossignol Black Ops equipment, which Ski Butlers's Aspen Atelier shop is exclusively offering a year before the general public can get it, will start at $105 a day.
Competitor Black Tie Skis services 41 mountains in the U.S. and Canada, and partners with hotels, like the Lumiere in Telluride, Colo., and entire ski areas, like Sun Valley, Idaho. In the same Jackson Hole scenario, adults would pay only $61 a day.
Heading east for your trip? Awayco extends its services to more than 40 U.S. locations, including mountains in Maine, Massachusetts, New York and Vermont. They also service 45 international cities, including spots in the Alps, Japan, Norway, Australia and Chile. Awayco's a la carte rental experience is focused on slightly more independent brands including G3, DPS, Blizzard, Icelantic and Sego. And unlike Black Tie or Ski Butlers, Awayco stocks touring skis for off-piste adventures, with prices starting around $50 a day. However, Awayco doesn't deliver equipment to your room; you reserve your gear online and, on arrival, fetch it from a local ski shop.
To stay competitive, hotels are also upping their rental game. Jackson Hole's Four Seasons lends an in-house supply of Black Crow, Fischer or Kastle skis (from $65 a day), and also has an exclusive deal with Bomber skis ($100 a day)—an ultra-premium brand commissioned by former Olympian Bode Miller.
Elsewhere, Park City's Lodge at Blue Sky offers a full-service fireside fitting. After getting kitted out with gear, you'll find it waiting in the hotel's exclusive Ski Lounge at the base of the mountain, where your boots will be waiting pre-warmed, your skis will be waxed and you can pop back at any time for wine or beer.
For those who might also need outerwear, Slope Threads and Kit Lender (kitlender.com) rent entire outfits including gloves, goggles, pants and a jacket for a flat fee starting around $45 a day for adults. Arrive Outdoors lends outerwear from brands like Arc'Teryx and Helly Hansen, with prices running slightly higher, at roughly $50 a day, including goggles and gloves. All three ship clothing directly to your hotel in a pre-labeled FedEx box that you drop off at the front desk on your way out of town.
What does it feel like to leave for a ski trip with nothing but street clothes, a swimsuit for the hot tub, and custom-fitted ski boots? Exactly what it should feel like: a vacation.
NOT SNOW FAST / THE ONE TYPE OF GEAR YOU SHOULD NEVER RENT? YOUR BOOTS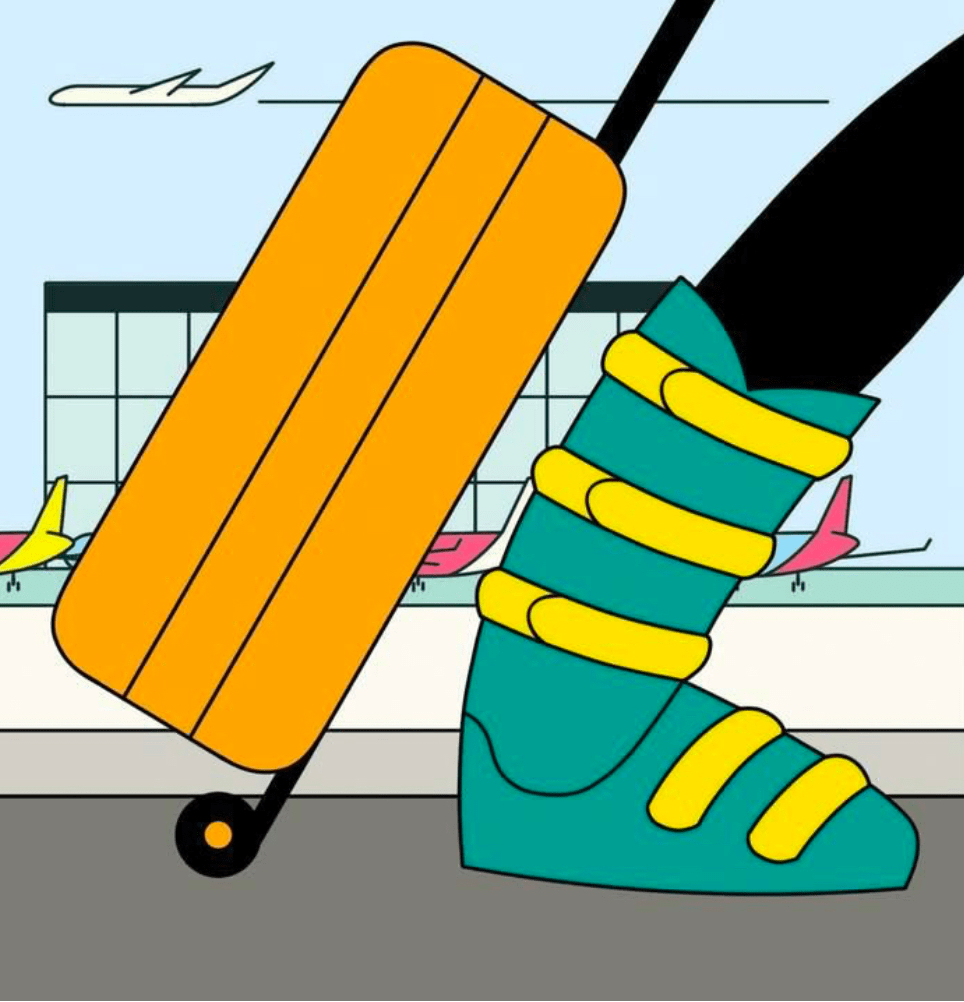 WHILE YOU CAN rent just about every piece of mountain-worthy gear to fit your general size and shape, ski boots should be specially made for your feet. Otherwise they hurt like hell.